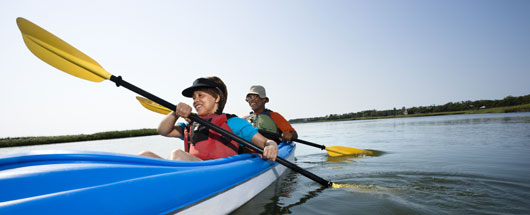 Welcome to ecoDelaware.com, your online gateway to the natural wonders of Delaware and its countless creeks, rivers, and estuaries.
EcoDelaware.com connects residents and travelers with outdoor places and activities in the First State. In this way, we hope to increase awareness, appreciation and, ultimately, environmental stewardship for the Delaware Estuary and similar river-to-sea watersheds.
So have a look around. There's a variety of destinations, events and ecotours around which you can plan your trip. We think you may be surprised. While small, Delaware has some world-class trails, outdoor festivals, and birding hot spots that never cease to amaze even the most well-traveled ecotourists.
| | |
| --- | --- |
| | |
Featured Great Places

Port Mahon Preserve
The Nature Conservancy's Port Mahon Preserve is open to the public for birding and nature study. This pristine location at the mouth of the Mahon River makes for a great spot to observe spawning horseshoe crabs and the shorebirds that feed on their eggs. We suggest you visit during the months of May and June to catch them at their peak.
Featured Great Events

May 3-11:
Delaware Birding Weekend
The Delaware Bird-A-Thon is a fun fundraising event. It challenges birders to raise money based on the number of species they see or hear in one day. There are even multiple bird walks from which you can choose.
Featured Great Trips

Romance in Old New Castle
There's a certain romance you feel whenever you step foot in an early-American city. Visitors to these towns will tell you, "It's just something in the air," but could it be it has more to do with the water? That's certainly the case in Old New Castle, where this 17th-Century settlement sits at the mouth of the Delaware River and in the hearts of locals.