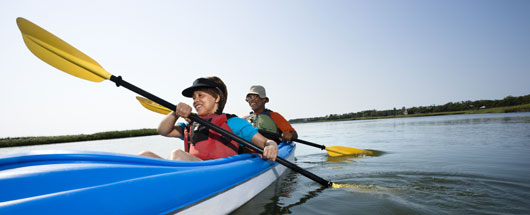 Welcome to ecoDelaware.com, your online gateway to the natural wonders of Delaware and its countless creeks, rivers, and estuaries.
EcoDelaware.com connects residents and travelers with outdoor places and activities in the First State. In this way, we hope to increase awareness, appreciation and, ultimately, environmental stewardship for the Delaware Estuary and similar river-to-sea watersheds.
So have a look around. There's a variety of destinations, events and ecotours around which you can plan your trip. We think you may be surprised. While small, Delaware has some world-class trails, outdoor festivals, and birding hot spots that never cease to amaze even the most well-traveled ecotourists.
| | |
| --- | --- |
| | |
Featured Great Places

Woodlawn, part of the First State
National Monument
Woodlawn is a 2,000-acre region bordering Brandywine Creek in northern Delaware and nearby Pennsylvania. This includes the 1,100-acre First State National Monument, which is currently used for fishing, hiking, horseback riding, mountain biking and more.
Featured Great Events

May 25: Horseshoe Crab & Shorebird Festival
This festival celebrates horseshoe crabs and migrating shorebirds, long considered to be natural wonders of Delaware Bay. Count yourself among the 1,500-plus visitors who annually enjoy boat rides down the Broadkill River, canoe trips on Prime Hook Creek and so much more.
Featured Great Trips

The Old-fashioned Romance of New Castle
There's a certain romance you feel whenever you step foot in an early-American city. Visitors to these towns will tell you, "It's just something in the air," but could it be it has more to do with the water? That's certainly the case in Old New Castle, which sits at the mouth of the Delaware River.