Great Events
Birding by Impression with Kevin Karlson
August 9, 2014, from 8:30 a.m. to 3:30 p.m.
39°15'33.26"N 75°28'23.06"W
Bombay Hook National Wildlife Refuge
2591 Whitehall Neck Road
Smyrna, DE 19977
Phone: (302) 653-9345
Email: bombayhook@fws.gov
Visit Website
Visit Website

Join Kevin Karlson, best-selling author of "The Shorebird Guide," for a one-day program at Bombay Hook National Wildlife Refuge. Karlson will introduce birders and wildlife photographers to his "Birding by Impression" technique during a field trip and interactive workshop. This year also features Dale Rosselet, vice president of the New Jersey Audubon Society.

Watch Karlson discuss his Birding by Impression technique on YouTube at http://youtu.be/BWqB6qhOV_A.

Please call (302) 653-9345 to register, but don't delay. Space is limited.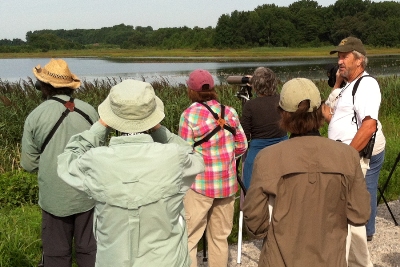 Photo by Bombay Hook National Wildlife Refuge
Click on the marker to view address and get directions