Great Places
Assawoman Wildlife Area
38°29'48.49"N 75° 4'13.24"W
End of Camp Barnes Road / Road 364
Frankford, DE 19945
Phone: (302) 539-3160
Visit Website
Visit Website

Assawoman Wildlife Area consists of three large land tracts totaling 3,100 acres of wilderness near Frankford and Little Assawoman Bay. Believe it or not, much of this land consists of former farms that were lost during the Great Depression.

Be sure to keep your eyes peeled for bald eagles, our nation's largest raptor, as well as pileated woodpeckers, our continent's largest woodpecker. You might also see a river otter while canoeing, kayaking, or wandering the property's salt-marsh trails. These are actually signs of good, clean water.

Each of these attractions can easily be seen using the onsite observation tower (see picture), two boat ramps, or the preplanned auto tour. Brochures describing the auto tour can be found near the main entrance sign.

Before your arrival, we recommend you consult the current schedule of hunting seasons. Or, if you're ever in doubt, simply wear hunters' orange or other bright colors. Also, please be advised that wildlife areas typically keep signage to a minimum, so a compass or GPS unit may be a wise thing to pack. That or simply stick to the premapped auto tour.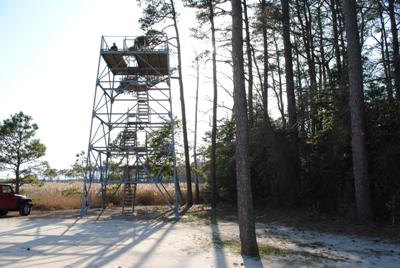 Photo by Flickr user Lee Cannon
Click on the marker to view address and get directions