Great Places
Pickering Beach, an official horseshoe crab sanctuary
39°8'12.68"N 75°24'32.87"W
Pickering Beach, DE 19901
Pickering Beach is an ERDG Backyard Stewardship™ community horseshoe crab sanctuary. This is the state marine animal of Delaware and a "signature species" of the Delaware Bay estuary.

Take a long flight down Pickering Beach in this drone video on YouTube: https://youtu.be/frQy2W3hYg0. Although it's hard to see, the village has set aside half a dozen parking spots and a port-o-potty for wildlife watchers.

Visitors are welcome to watch as horseshoe crabs swarm the beach while spawning in May and June. All we ask is that you maintain a safe distance from all wildlife to ensure they are not disturbed; that is, unless you see a horseshoe crab stranded on its back. If that's the case, we ask that you please Just flip 'em!™, an ERDG program, and check out their music video to see how: http://bit.ly/1oxbPIL.

Don't forget to bring your binoculars, camera, or spotting scope if you visit. Anytime horseshoe crabs spawn they attract a wide variety of shorebirds seeking to eat their eggs.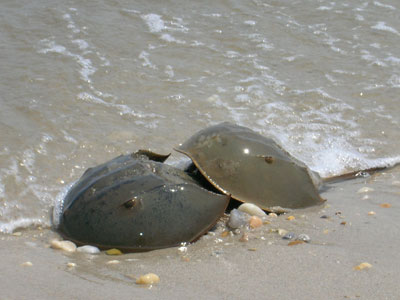 Photo by the Partnership for the Delaware Estuary
Click on the marker to view address and get directions